J.S. McCarthy invests in fastest Speedmaster in US
US-based folding carton specialist J.S. McCarthy has invested in a new Speedmaster XL 106 from Heidelberg responding to introduce a faster and more reliable press to keep up with its increased production. The new XL 106, which runs at 21,000 sheets per hour and is the fastest rated sheetfed offset press in the world, will be the first of its kind to be installed in the US.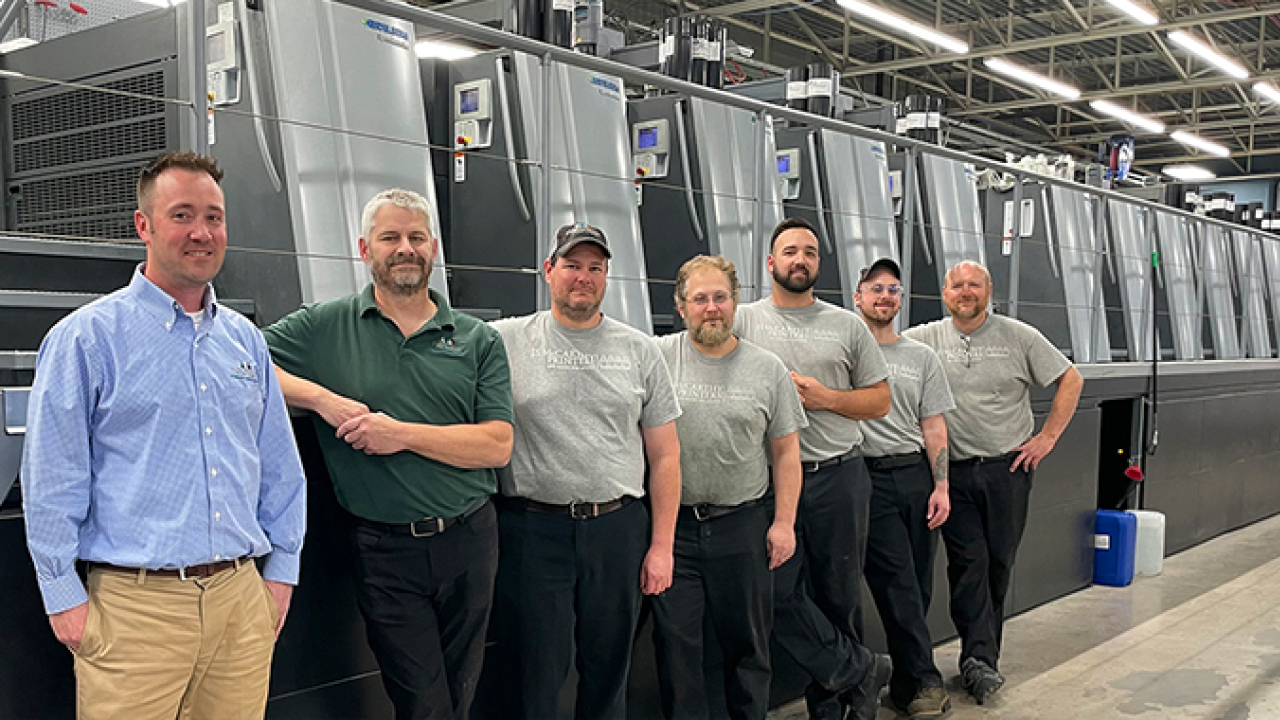 Founded as a commercial printer in 1947, J.S. McCarthy, Augusta, ME, has seen 'extreme growth' in its folding carton business since deciding to go 'all in' with packaging five years ago through 20 million USD infrastructure and equipment investments. 
According to Jon Tardiff, CEO and president of J.S. McCarthy, the company is expecting a 50 percent revenue increase from folding cartons during the next two to three years. 
J.S. McCarthy produces paperboard packaging primarily for the food, pharmaceutical, and cosmetic markets, will install its new Speedmaster XL 106 late next year to replace an older press. Its current press is no longer a 'viable back-up' for the company's 2018 Speedmaster XL 106 that runs round the clock producing all the company's folding cartons. 
'We're in a position where we basically have one press driving the entire plant. The new XL 106 is going to help us digest all this new growth,' said Tardiff. 
The speeds and reliability of the new XL 106 will significantly increase J.S. McCarthy's throughput, which is essential due to the plant's space limitations. The company, which recently added onto its plant and is planning another addition for 2023, is looking to the XL 106 to help 'get large jobs through the plant as quickly and as productively as possible'.
According to Heidelberg, by increasing the printing speed to 21,000 sheets per hour, the XL 106 is now the fastest press in the world and is projected to produce upwards of 100 million impressions annually with higher net output than the 18,000 SPH model. 
J.S. McCarthy anticipates ramping up its production to 50-70 million impressions, based on its current average run length, within the first year with a goal of reaching the press's maximum output in the future. To achieve higher speeds and net output, Heidelberg has optimized over 200 components throughout the entire system, from feeder to delivery. 
The improved components and advanced Speedmaster technology, like new intelligent User Experience (UX), autonomous Push-to-Stop technology, and AutoPlate Pro, help to significantly cut down on makeready and waste – contributing to J.S. McCarthy's overall efficiency and sustainability goals. 
Additionally, this is a carbon-neutral press, which means CO2 emissions that are generated during press production are compensated for by purchasing climate protection certificates (Gold Standard). Further sustainability efforts from the company include having its plant 100 percent wind powered and being FSC-certified.
J.S. McCarthy first made the switch to HEIDELBERG's Speedmaster technology in 2018 with the purchase of an XL 106-4+LYY-P+4+L. The machine replaced two older presses and increased the plant's productivity by 50 percent. The machine, which is less than four years old, has already acquired 200 million impressions and runs consistently at its top running speed of 18,000 sheets per hour. 
'Heidelberg continues to show its overall value through its proven technology and the day in and day out productivity we see with the number of sheets to the floor we get every day,' added Tardiff. 
Upon installation of the new XL 106 next year, a UV model which will also include Prinect Inpress Control, the company expects even higher productivity gains than its first Speedmaster due to its higher speeds.
Stay up to date
Subscribe to the free Label News newsletter and receive the latest content every week. We'll never share your email address.