After a series of European acquisitions, All4Labels Group accelerates its ambitions further afield with market moves that include expansion into Latin America. 
As one of the pioneers of sustainable innovation, with a particular focus on digital technologies both on production lines and across process management, All4Labels has an overarching ambition of acting as a packaging industry game-changer. Reaching that goal has meant building on external partnerships and joining new resources via a robust program of mergers and acquisitions.
Few companies with more than 100 years of history can demonstrate the growth and innovation of All4Labels over the last few years. The group's ambitions are accelerating further with planned expansion into Latin America. 
'We will continue to be a safe haven for family businesses who want to take an additional step towards greater competitiveness while also ensuring longevity for their companies,' says Adrian Tippenhauer, CEO, All4Labels group.
Growing stronger and bigger day by day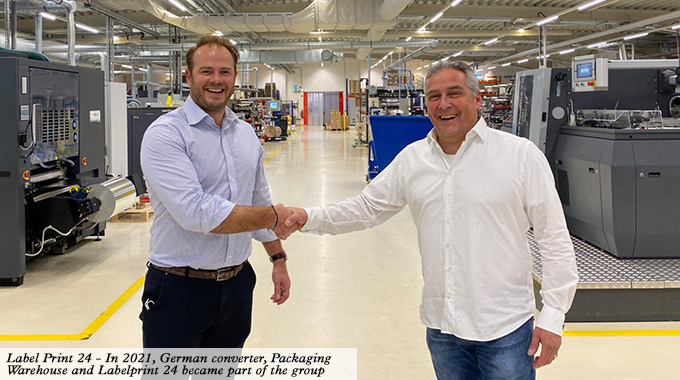 There are already many recent examples of new partnerships in Europe. In 2021, Packaging Warehouse and Labelprint 24 became part of the group. The former added a leading online packaging platform for digital printed and converted labels and cartons to the All4Labels portfolio. On the IT front, Labelprint 24's self-developed software added the ability to offer customers services such as ERP interfaces and shop systems for top brands.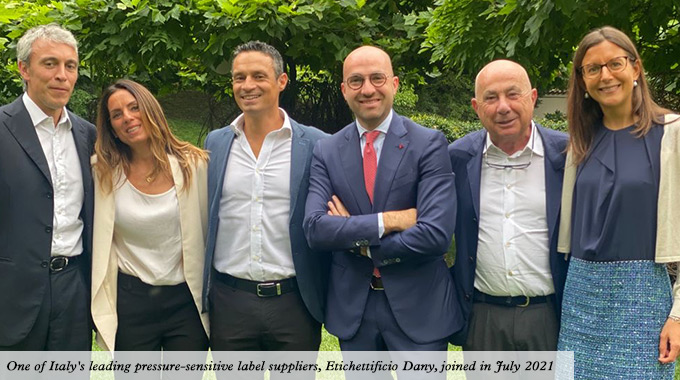 One of Italy's leading pressure-sensitive label suppliers, Etichettificio Dany, joined in July 2021, further strengthening capabilities in Italy, especially for premium SME customers in the food, beverage, home and personal care segments. 
In January 2022, Limo Labels, one of the Scandinavian leaders for pharmaceutical and industrial labels, became part of the group, with the owners and management team managing what is now a valuable All4Labels asset in the Nordic regions.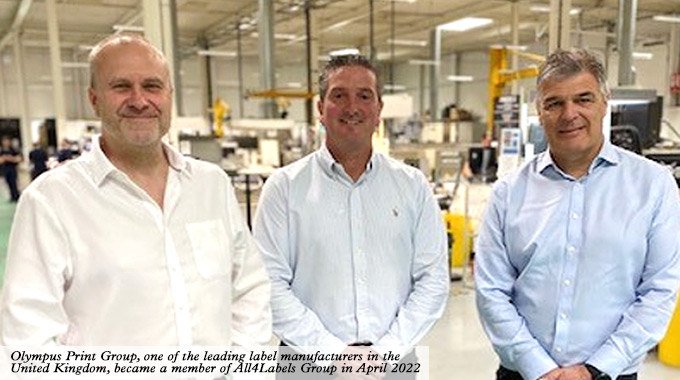 With the recently announced transaction with Olympus Print Group, one of the leading label manufacturers in the United Kingdom, All4Labels Group marked the beginning of its strategy to build a leading business unit in the United Kingdom.
'After 28 years of building the Olympus brand, we are proud of our reputation for technical expertise, high quality, and a strong focus on customer service,' says Steve Cartwright, director at Olympus Print Group. 'The decision to join a partnership with a global, like-minded and innovative packaging group was made easy as All4Labels shares the same strong values as Olympus Print Group. The full senior management team and employees look forward to working with All4Labels in the future.' 
The partnership with Olympus Print Group illustrated the fifth successful acquisition by the All4Labels Group within the last twelve months, underlining its sustainable investments into growth and expansion globally.
Not only is international growth an essential part of the strategy, but All4Labels recently announced an agreement with Grafiche Pizzi, which has operated exclusively in the pharmaceuticals, healthcare, and cosmetics segment for more than 50 years, producing packaging inserts, brochures, and folding cartons.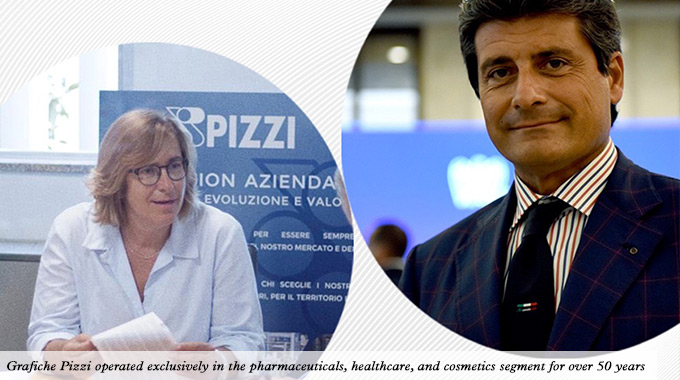 'We are extremely pleased and proud to welcome the entire Grafiche Pizzi team as new members of the All4Labels Global Packaging Group. We believe that All4Labels' global footprint and Grafiche Pizzi's experience will strengthen our diversified platform across products, markets, and regions,' notes Antonio Iannone, president at All4Labels Italy. 'With Grafiche Pizzi's additional capabilities and long-term expertise, we aim to consolidate our presence in the pharma industry and support our strategic, global growth.'

The group is thus continuing to pursue its strategy of expanding into attractive markets with well-known partners. Just a few weeks ago, in August 2022, the group grew once more with the addition of the Italian manufacturer of pressure-sensitive labels, Carlucci. This converter, based near Rome, has established itself as a big name in the market by delivering quality products primarily to the pharmaceutical and personal care segments for the last half a century.
'We are extremely pleased and proud to welcome the whole Carlucci team as new members of the All4Labels Global Packaging Group,' remarks Antonio Iannone, president and the founding father of All4Labels. 'Carlucci is a perfect example of a long-established, high-performing Italian company, and jointly we aim to consolidate our presence in the pharma industry both in the Italian market as well as abroad. It marks an important milestone for All4Labels and highlights our strategy to expand our presence and capabilities in the pharmaceutical and healthcare market.'  
The Iberian Peninsula has also been introduced to the European converting powerhouse with the recent additions of Spanish label specialists Relieves Egara and Gràficas Indetic in August 2022. The All4Labels family welcomed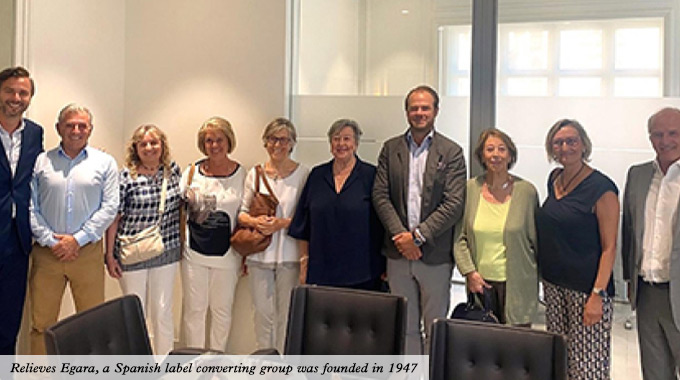 'This future partnership with Relieves Egara is another important step for All4Labels, especially for our expansion in the Iberian Region,' comments Tippehauer. 'We are very happy to bring Josep Gamundi and his entire management team on board of the All4Labels Group and are keen on developing the business further. We see a lot of potential to strengthen our market position in Spain and accelerate our growth, together with the companies that recently joined and more acquisitions to come. Finally, I would like to thank all parties involved for their great support in this transaction.'
By joining All4Labels Group, Relieves Egara adds many years of experience and extensive knowledge of the Spanish market to the European converting family.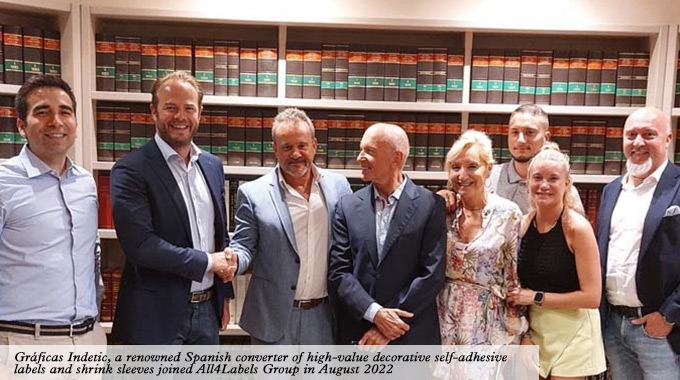 Antonio Villegas Castillo, the owner of Gráficas Indetic, firmly believes that by joining forces and cooperating, both companies can grow together and serve their customers even better than we have already done in the past. 
'We are looking forward to exploring all the possibilities we have in the Iberian market, now with the strength and resources of the All4Labels Global Packaging Group,' says Castillo.
Expansion in Latin America
As with the European transactions, the LATAM partnership with Flexoprint, with its manufacturing sites in Brazil and Paraguay, is set to ensure continued growth in a priority region. 
The owners of Flexoprint will continue to manage their business. They will additionally take over critical responsibilities in the All4Labels LATAM organization to drive the growth in the region together with Fernando Gabel, All4Labels president for Latin America, and his team. 
'We are extremely pleased and proud to welcome the Flexoprint team as new partners and members of the All4Labels family, and together we will be able to offer our customers a much more complementary product and end-market portfolio,' says Gabel. 'We look forward to continuing the All4Labels success story together and welcoming the new colleagues with open arms.'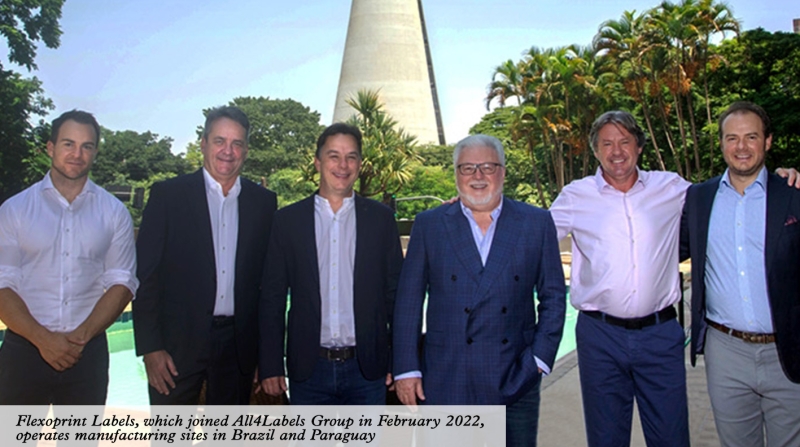 'Flexoprint has a solid and growing trajectory of business success and is always looking for a new horizon,' adds Laércio Stange Warmeling, CEO of Flexoprint. 'Within the All4Labels project, we identified the possibility of consolidating and combining our ideas and dreams for the continuity and development of our business in Latin America, leading to this perfect alliance. From the closing, we will be part of the global All4Labels family. We will always maintain the same essence of working and relating with our employees, customers, and suppliers, now having the perfect synergies to speed up the development at a regional level.'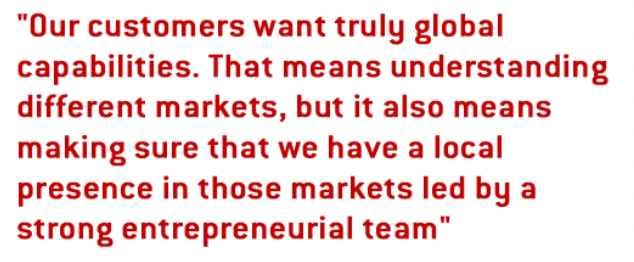 Tippenhauer adds that this partnership is essential for the company's Latin American growth strategy: 'Laércio and Jaison [Flexoprint owners] are unique and very committed entrepreneurs who have built an outstanding company in a demanding environment with their teams. We are pleased and proud to welcome their employees as new members of the All4Labels Global Packaging Group. Finally, I would like to thank all the parties and family members involved for their valuable support and trust in the project as well as our team.'
Tippenhauer is also clear about the way ahead: 'Our customers want truly global capabilities. That means understanding different markets, but it also means making sure that we have a local presence in those markets led by a strong entrepreneurial team. By seeking partners who share our culture, vision, and values, we have been able to expand our global footprint continuously over the last few years. Our recent partnership with Flexoprint in Brazil is one of the latest examples and a clear demonstration of our determination to expand further our presence in the LATAM market further.'