Greatest risks facing label and packaging companies in 2023
Inflation, staffing challenges, material shortages and environmental considerations are a few of the challenges and opportunities facing label and packaging businesses in 2023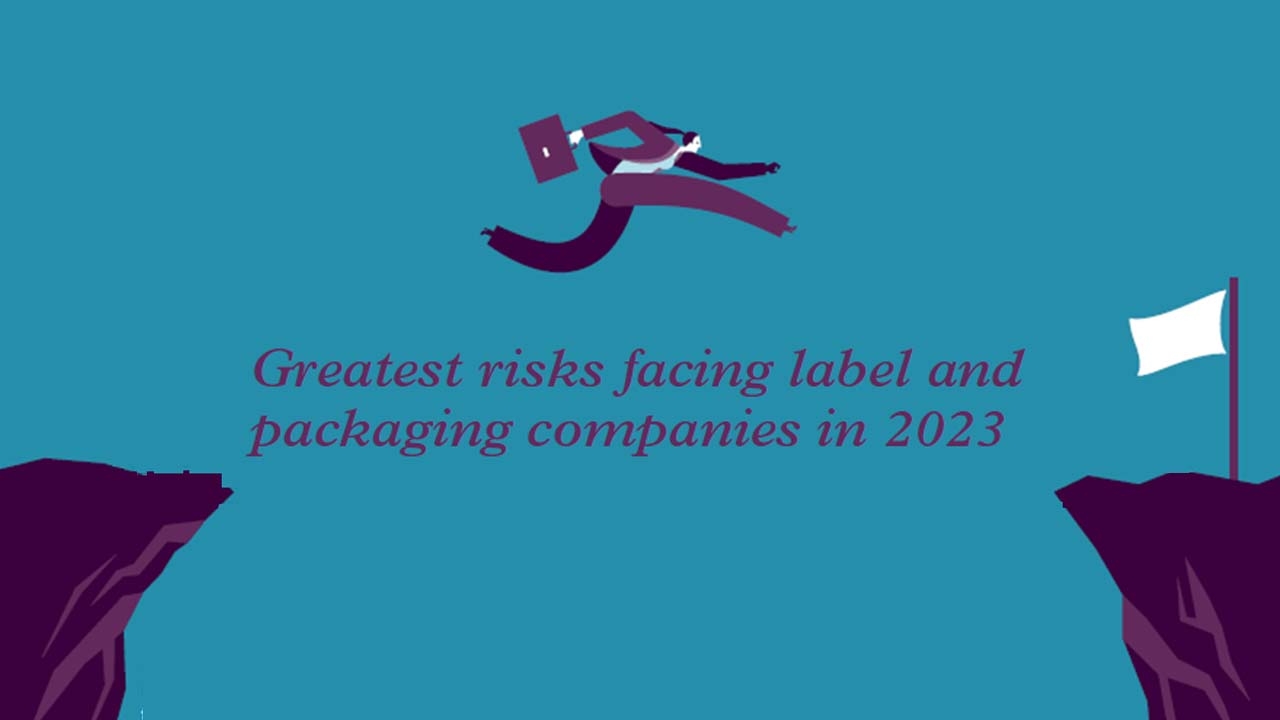 Running a profitable labels or packaging business takes a lot of savvy. Over the past year, market dynamics did some of the work for us. Inflation, staffing challenges and continued consolidation afforded us he luxury of raising prices, extending manufacturing times and increasing customer tolerance for any encountered issues. Material shortages, while troublesome, created a magic storm
that produced volume and demand beyond any other growth year. Indeed, 2022 was quite favorable and we have much to be grateful for.
As we delve into 2023, we need to readjust. While risks
are a given, they change based on emerging trends, customer expectations, and other internal and external influences. Every leadership team needs to stop and evaluate current circumstances and how they may impact your business, strategic plan and trajectory.
The greatest risks are those that we aren't prepared for.
Let's look at the top six risks of 2023 and how we can
address them:
Skilled labor and staffing — Finding new, skilled (and
hard-working) employees remain a challenge. In our post-Covid world, many employees still want — and expect — to work remotely. In manufacturing, this simply isn't possible. We need people at our plants running equipment and making products. The physical presence of customer service, product design and estimating is also integral.
Manufacturing has never been considered a glamorous industry, and perhaps the last time we saw a television character in a manufacturing job was 'Laverne & Shirley'. But there is no reason to perpetuate the stereotype. Our industry is thriving, and our technologies have delivered some of the most intriguing and high-profile innovations in food and beverage, pharmaceuticals, healthcare, automotive and other venues. We have enormous
growth opportunities and investment influx. Namely, great
excitement and energy surround our business, and we must
showcase these on our websites, social media, and other platforms to attract talented labor and new industry entrants.
Hiring pressures will continue to strain all label and packaging companies, so competition for talent will be fierce. Your biggest risk will be losing existing staff. Beyond the financial costs, the impact on morale, productivity and customers can be significant — and spur ongoing exits. Make 2023 the year to implement strong retention measures that resonate with your unique employees.
Inflation — Inflation has been a friend for many of us. It has
given us dollar-sales-per-press-hour increases along with margin expansion. But it's slowing in the US and is expected to decline globally over 2023 and 2024.
Thus, we'll need to upsell, cross-sell, increase volumes and
customers, expand capabilities, etc., to increase revenues. Namely, we'll have to go back to getting growth the hard way — earning it. This makes skilled labor and staffing that much more important.
Additionally, label and packaging companies need to brace
themselves for the risk of a recession, which is predicted to set in by mid-year. This means evaluating your customer concentrations and balancing the industries you're doing business with. If you're heavy in retail or hospitality (which are typically hit hard by recession), focus prospecting efforts
in industries more resilient to rising costs and interest rates
(such as healthcare and pharma).
The greatest risks are those that we aren't prepared for
Customer demands — Widespread supply chain
issues and material shortages made customers more
accommodating, and to some extent, more loyal. As capacity and material return, so will price, service and competitive pressures. Additionally, customers' own budgetary challenges will enter into demands.
Expect to have some pushback on estimates as
companies tighten their belts. And don't be surprised to see
recession‑unprepared competitors throwing in unrealistically low bids.
We'll need to get back to positioning ourselves as value-added solutions partners and keep the emphasis off price. Get a jump start on this, show your customers why they need you specifically, and pursue contracts that shield you from these changing demands.
Sales — Expect also to see customers wanting more face time. Zoom meetings were great when there was no other possibility. But our business is highly technical, requiring planning, design and testing that delivers customer confidence. These activities are optimized by close communication. Find out customers' current health protocols and bolster your relationships through more
in-person visits and interactions. Be prepared with ideas
and opportunities that help them avert current risks and build their businesses.
ESG considerations — ESG (Environmental, Social and
Governance) is a framework for organizational consciousness that businesses are increasingly looking for in their vendors. ESG measures are also being called for by new government regulations (both state and federal).
Label and packaging businesses will need to start adapting for ESG demands if they have not yet done so. As such investments can be costly, you'll need time to evaluate which measures are most valuable to your business and customer territories and give you the greatest ROI.
With market dynamics changing, 2023 may also be a time to consider an acquisition, a company sale, or a strategic partnership. Regardless of your trajectory, preparing your business for these 6 risks is critical. What you do now can avert these risks and best position your company for the future.
Stay up to date
Subscribe to the free Label News newsletter and receive the latest content every week. We'll never share your email address.