Bobst pushes automation and sustainability agenda
At its annual press event, Bobst made a series of important announcements indicating the way forward for its narrow and mid-web press technology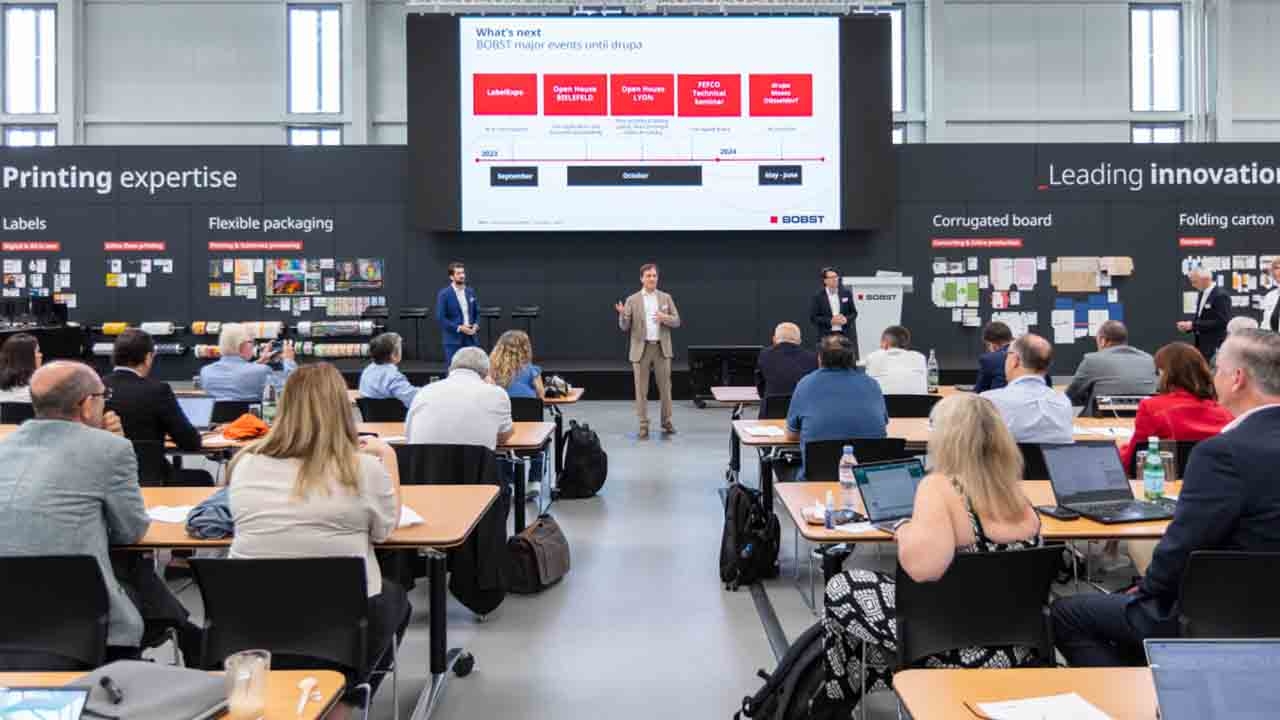 With Labelexpo Europe 2023 on the horizon, Bobst has
announced a major push across its whole raft of package
printing and converting lines toward the digitalization of
the packaging supply chain.
At the same time, the company made significant
announcements on its labels business, including new die-cutting systems, Pantone validation and a new user interface for both flexo and digital presses.
While many of the announcements at the Bobst annual press event in Lausanne, Switzerland, were not directly related to the labels and mid-web flexible packaging sectors, they clearly show the direction of travel at Bobst - and are already filtering down to areas of more direct interest to L&L readers.
Falling into this category is Bobst's 70 percent acquisition of
Dücker Robotics, which develops robots used in loading and palletizing corrugated board. The technology will certainly scale to folding carton converters and the more industrialized sheetfed offset wet-glue label converters. But going forward it could also form the basis of automated logistics for the inline labels sector.
Likewise, Accucheck, which uses the artwork PDF to generate inspection recipes, started as a system targeted at folding carton converters and has now been ported to Bobst's narrow and mid-web label machines.
Another Bobst partner which has directly impacted the labels' portfolio is Sauber Technologies, which specializes in additive manufacturing (3D printing), fluid dynamics and aerodynamics, already used in Formula 1 R&D.
Explains Patrick Graber, strategic marketing director at Bobst. '3D printing has evolved with titanium which is a very strong material with excellent thermal stability. 3D printing allows us to simulate ink flow dynamics and functioning of it. It gives us then the ability to print final components with these geometries which are integrated to our clusters. Each inkjet printhead has its own ink chamber where ink is optimized in very small quantities by regulating heat and pressure to achieve perfect viscosity right before jetting.'
Another company-wide technology is Bobst's oneECG extended color gamut implementation, which is built on the existing Revo ECG technology for Bobst inline presses. When matched with LED-UV curing, Bobst has measured a staggering 60 percent decrease in energy use.
'Sustainability is the key driver for increasing adoption of
oneECG,' comments Graber. 'Customers were not ready before, but oneECG is more and more an acceptable way of working, particularly where you have short-to-medium runs.'
At the heart of Bobst's corporate digitization agenda is Bobst Connect, a Cloud-based bundle of services and analytics which currently includes equipment monitoring and performance management modules. Bobst announced the addition of a Tool Management module, currently targeted at the folding carton sector. Tools are 'enrolled' and automatically identify themselves to the machine using the optional Toolink RFID tag. The software then monitors tool wear and allows Cloud-based management of the tooling inventory. 
Moving forward we can expect to see sustainability, maintenance monitoring and quality control being added.
At Labelexpo Europe 2023 Bobst will demonstrate, together
with its partners, a complete workflow with seamless integration between inline flexo and digital processes, enabling the digitalization of all process steps.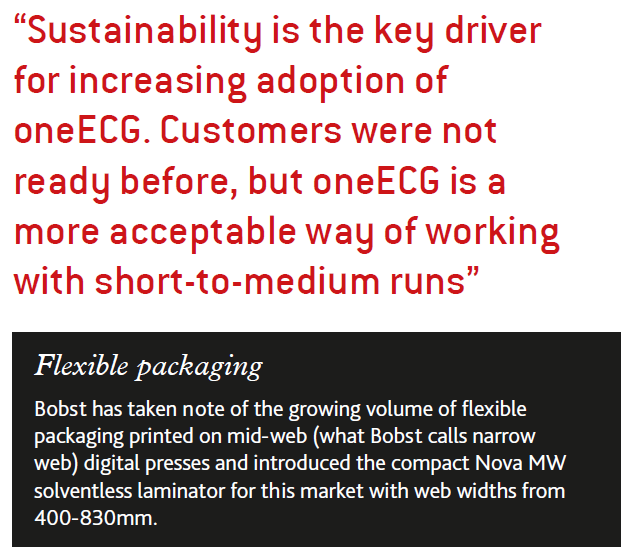 Labels deep dive
For the first time, Bobst's press event included a session dedicated to labels, demonstrating the increasing importance of the inline digital and flexo portfolio within the group. Last year the label division took on 80 employees, and another 50 this year. The company has seen particularly strong growth in its high-end 'All-in-One' press sales.
'The need for automation and workforce issues mean this
segment will continue to increase,' says Graber.
Graber points out that it is not only the larger consolidated
labels and packaging groups who are buying the top-of-the-range 'All-in-One' Digital Master press but also medium-sized converters such as Germark in Spain. Explained Graber, 'Automation is the key here - Iban (Cid)'s DM340 is run by a single operator where you would usually need two to three operators - one printer, one finisher and one for splice and inspection.  With a DM340 and an in-line turret slitting rewinder, most processes are automated with minimum manual intervention. Thanks to this inline process from PDF to ready-to-ship rolls, waste is cut in half and a complete job change can be performed in under three minutes. Another big benefit for medium-size customers is the space these presses free up.'
Graber was keen to restate Bobst's continued commitment 
to both its flexo and digital technologies, with a key focus both on integration and automation. Flexo accounts for around half of Bobst's label press sales, and customers are asking for more automation.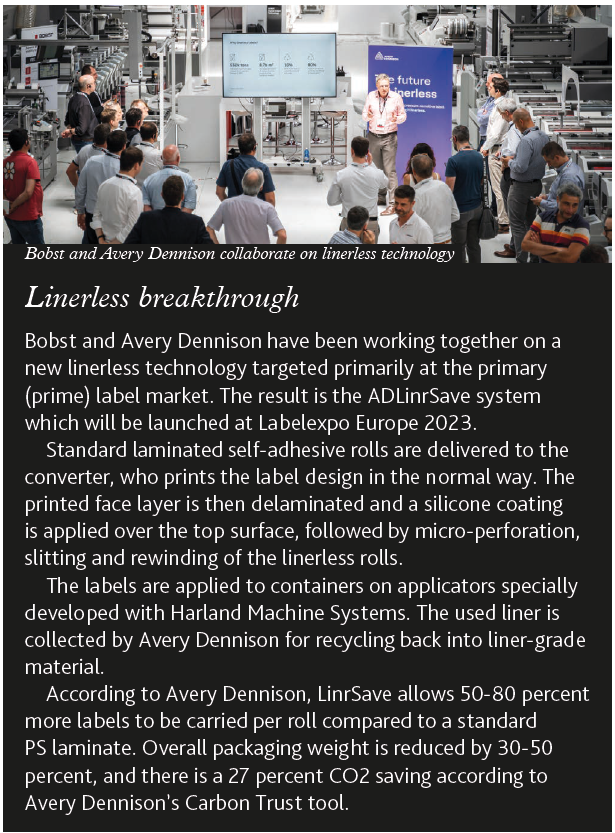 Says Graber, 'On flexible packaging and on labels the M6 can also handle short runs with a combination of auto job change capabilities and oneECG, which will be demonstrated at Labelexpo in Brussels. Looking more into the long term, we are looking into robotics which can automate processes such as preparation and packing.'
New user interface
A major announcement at the event was Bobst Sphere, a common user interface (UI) for both flexo and digital inline presses. The re-designed UI comes first to the Digital Master  and inline flexo M6 press series and will be gradually rolled out to Bobst's other platforms. For the Digital Master press, this means a single interface controls both the digital print engine and flexo and converting components. Sphere UI includes a simple
troubleshooting wizard and is fully Industry 4.0 compliant. It is now undergoing beta testing and will be available in Q4 2023.
It is interesting as well to see how the labels portfolio presses are being integrated into Bobst's Connect and Accucheck technologies mentioned above.
Explains Graber, 'For label converters Bobst Connect will give access to data-driven analytics, higher machine up-time with remote connected maintenance, and the ability to identify and optimize production trends thanks to historical data reporting. In addition, Accucheck quality reports will be accessible in the Cloud, along with real-time performance monitoring of key production metrics and job analytics.'
An update package, Accucheck for Labels, will be available in Q4 2023. This will incorporate fully automatic setup, job queue synchronization, serial coding inspection (zoning and code upload), LILO (lead-in-lead-out) exclusion from inspection, and quality reports integrated into Bobst Connect.
Built-in inkjet calibration features will include fully automatic
angle and stitch and bad nozzle jet detection and compensation, and uniformization of color densities.
Accucheck will detect deviated nozzles and not just blocked nozzles and provide real-time alerts to the operator. Bobst works with X-Rite spectrophotometers to measure deltaE tolerance to Pantone targets.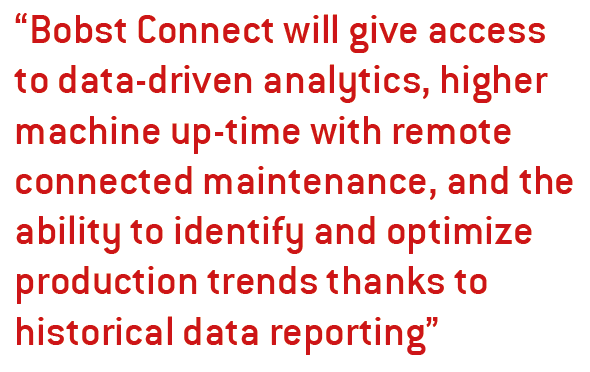 Die-cutting and Pantone validation
Bobst already has a 370mm-wide high-speed semi-rotary die-cutter and has now added a 530mm-wide version, both with automatic plate-change and DigiGap automated pressure control.
'The die-cutter runs at 160 m/min and you are in registration after a job change in one to two minutes,' says Graber.
Bobst also announced a new Quick Change rotary die-cutting system, which claimed to halve magnetic cylinder changeover times.
Bobst further announced Pantone validation for its inkjet engine and DFE (digital front end).
'We are the first to get Pantone validated,' says Graber. 'This ensures both our workflow and output are in accordance with Pantone standards, which gives brands confidence. We started the process one year ago, also for our gravure business. Flexo will follow at some point, so all our presses, whether for short or long runs, will be color-matched to the same Pantone standard.'
Stay up to date
Subscribe to the free Label News newsletter and receive the latest content every week. We'll never share your email address.