★
You are viewing this content as a subscriber
Flexible packaging: pre-press, printing and converting
Flexible packaging is best defined as packaging which is flexible in format, has no defined fixed shape and can be readily or easily changed.
Flexible packaging is best defined as packaging that is designed to hold products, goods, solids, liquids, pastes, creams or powders and which is flexible in format, has no defined fixed shape and can be readily or easily changed.
Having said that, flexible packaging still needs to be designed to a specific size, and origination produced for a particular type or style of pack. Is the pack a pouch, sachet, bag or wrapper? What are its physical dimensions and tolerances? Are there any special requirements or features to be introduced, such as tear notches, hanging holes or slots, gussets, re-closure, spouts or zippers? Are there any applicable standards and test methods to be adhered to? What substrates and printing process are being used? How are the packs being sealed? If heat is used will this have an impact on the inks used?
All of these factors will need to be included in the customer order requirements and job specifications that will form the order entry and workflow for the job. Depending on the printer or converter operation, this may automate pre-press stages or become the first stage of design and origination, followed by proofing, printing and converting as required.
An area designated for date, batch or barcoding may also be required, and the client may ask for 3D visuals or physical pack prototypes of the packaging designs before finalizing the design and graphics stages.
It is also important when designing the printing of packaging film to have bag drawings from the machine supplier, which will indicate exactly where printing is possible and where it is not.
For a label converter moving to the design and printing of flexible packaging many stages will be very familiar. Creating the physical size and shape; on-screen design and formatting; positioning of text, barcodes and graphics; physical trim sizes; the placing of register marks; slitting; step-and-repeat.
Creation of artwork. Certainly, label converters already using Esko label software and systems should have little problem in moving to Esko flexible packaging software. 'Studio' for flexible packaging for example, has unique design tools that enable the converter to create 3D flexible packaging shapes and packaging artwork within a matter of minutes.
A pack structure or shape can be selected from the bag, pouch, pillow, sachet, or other images in the Esko Online Shapes Store (see examples of shapes in Figure 4.1). Once selected, artwork can then be applied to that structure. Studio can add filling machine specifications, add air and liquid filling requirements, or insert a geometric shape to mimic biscuit, ice cream or other product packs.
Artwork instantly appears in 3D in the Studio window in Illustrator, ArtPro or PackEdge using built-in filling and substrate knowledge.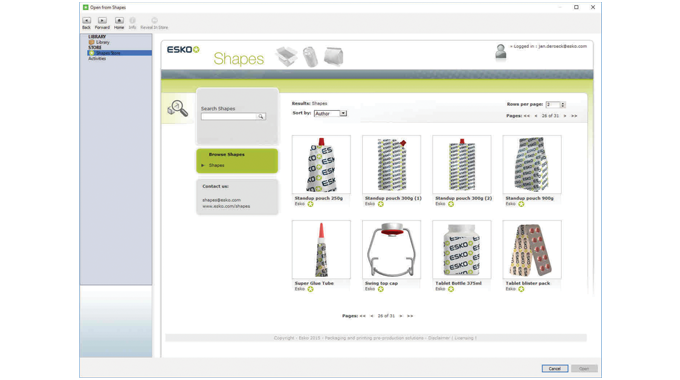 Stay up to date
Subscribe to the free Label News newsletter and receive the latest content every week. We'll never share your email address.