Avery Dennison selects startups for AD Stretch Accelerator Program
Company selects five startups to tackle packaging industry challenges in North America and EMENA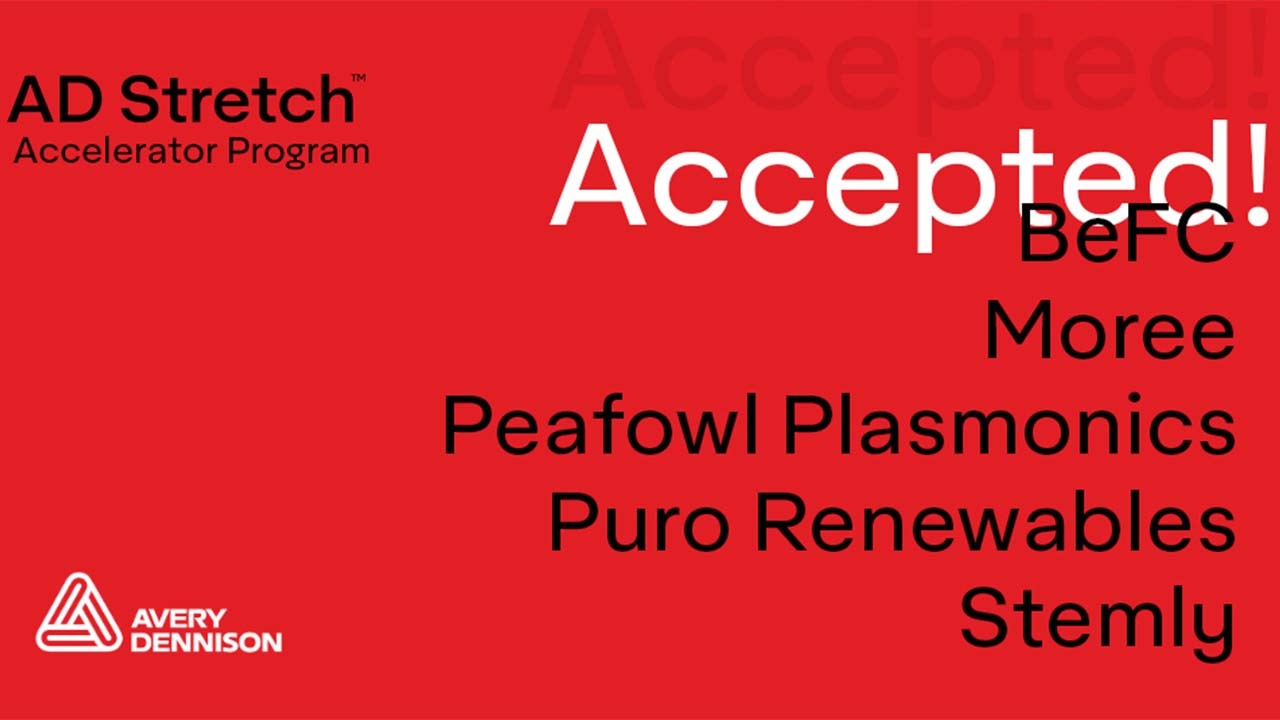 Avery Dennison has selected five startups for Cohort 02 of the AD Stretch Accelerator Program. AD Stretch tackles crucial challenges in the labels and packaging industry, including connected packaging, materials innovation and sustainability. The program, run in partnership with accelerator builder-operator Highline Beta, received over 300 applications from startups worldwide.
Following the success of the inaugural cohort, AD Stretch Cohort 02 will deliver a pilot-based accelerator program that encourages collaboration, planning, execution, and analysis with a select group of startups over a condensed six-month period, running pilots in North America and EMENA.
'The five startups will bring unique approaches and solutions to our challenges and fresh perspectives to our industry,' said Jeroen Diderich, senior vice president and general manager Avery Dennison Materials Group North America. 'Together, we will drive innovation and sustainability globally.'
Avery Dennison chose these startups for their potential to evolve the label and packaging industry. Other criteria included their experience in bringing products to market, generating sales and ability to partner with a Fortune 500 industry-leader.
The startups are:
BeFC: the startup's paper biofuel cells use enzymes to convert glucose and oxygen into electricity - a sustainable alternative to traditional miniature batteries. The expertise of Avery Dennison combined with BeFC's printable and flexible bio-batteries will empower the next generation of logistics, medical devices, health wearables and environmental devices.
Moree: Moree makes it easy for food companies to switch to reusable packaging with its reusable packaging as a service. It offers reusable pouches, easy returns and digital rewards for customers, all while tracking inventory, orders and environmental savings through its SaaS platform. Together with Avery Dennison, Moree will help brands take a big step towards zero waste, while encouraging more sustainable lifestyles.
Peafowl Plasmonics: the startup's light harvesting cell can invisibly power any conductive surface, including transparent ones, revolutionizing electronic devices. With its expertise in plasmonics, nanomaterials and solar capture, Peafowl Plasmonics will join Avery Dennison on a journey towards sustainable energy.
Puro Renewables: Avery Dennison and Puro Renewables will collaborate on a mission to eliminate the long-term impact of plastic waste. Puro Renewables transforms plastic product manufacturing by utilizing carbon-negative, bio-renewable biowaste materials. It help major manufacturers and brands create desirable products while reducing reliance on fossil fuels, decreasing their carbon footprint.
Stemly: Stemly automates forecasting and optimizes supply chain, finance and sustainability decisions. Together with Avery Dennison, and with an AI-powered platform and diverse dataset management, Stemly delivers fast implementation and accurate forecasts, enabling executives to make better and more interconnected decisions across the company.
Steve Flannery, senior vice president and general manager Avery Dennison Materials Group EMENA, said: 'Avery Dennison aims to foster a startup mentality of agility and innovation throughout the organization by collaborating with startups, accelerators and investors. This strategy will create win-win outcomes for everyone involved. Our partnering will positively impact our industry and the world.'
Stay up to date
Subscribe to the free Label News newsletter and receive the latest content every week. We'll never share your email address.