Marpak boosts capacity with Bobst folder-gluing machine
Carton-finishing specialist, Marpak, has boosted productivity and expanded its capability with the investment in a Bobst Alpina 110 A3 folder-gluer at its Leicester, UK, facility.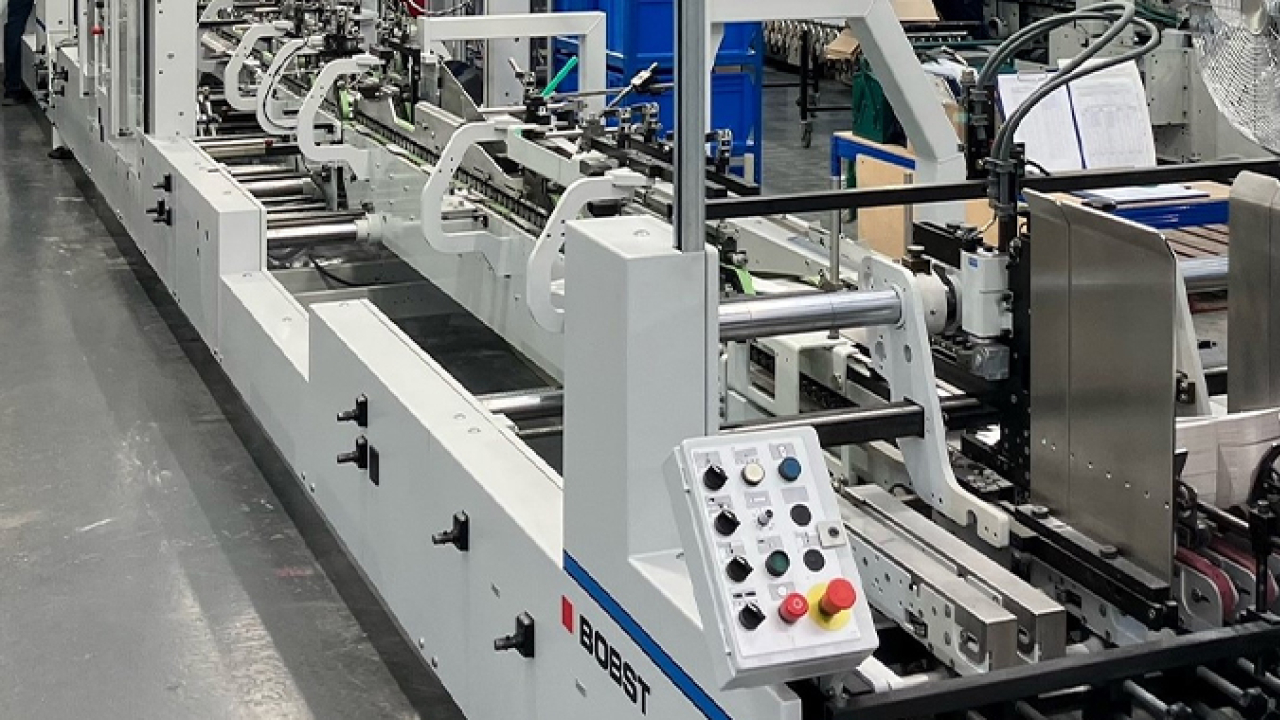 From its modern, 30,000 sq ft BRC and PS9000-accredited facilities in the heart of the East Midlands, Marpak offers the full spectrum of board converting and trade finishing services, from die-cutting and folding-gluing to nested trays and pick and place. While the investment marks the third time partnering with BOBST on machinery, crucially this is the first time the company has opted for a pre-owned machine, albeit one expertly refurbished by BOBST's own team.
'We had been looking at making the investment for some time, with plans to do so as part of our capital expenditure program for 2019,' said Chris Goodayle, director of operations at Marpak. 'We had a good look around at other OEMs, visited the various innovation centers and carried out all our due diligence. Then, based on our previous experience with the company and the ease of standardization with our workflows, we went with Bobst.
'Complications in the wake of Covid meant that if we were to order a new-build machine, the lead time was significantly longer. We knew we wanted it in situ as quickly as possible, and we could order the refurbished model in March and have the installation completed by September, so it was an easy decision to make.
'We already have two other Bobst machines at our Craven Street facility, where we undertake all our folding and gluing, window patching and tray forming. The Alpina is a legendary machine, known for its robustness as well as its performance. It's now central to our workflow, sitting adjacent to our existing Bobst Media II and Domino 110 carton folder-gluers.'
The latest Bobst machine is running with three operators across 12-hour shifts, with the Alpina already helping Marpak to meet demand. 
'As a trade house, working in the food and drink and pharma market, there has very much been a concertina effect in terms of demand and production requirements, and recently there's been a significant upswell in orders,' added Goodayle. 'The machine is fully in the fight now, delivering both increased production capacity as well as opening up additional capabilities.'
According to Goodayle, the investment was a key part of Marpak's ongoing plan for growth. 
'It's very much a statement of intent of the direction Marpak is taking,' commented Goodayle. 'This is part of our planned upgrading of our capability, and it's also part of our efficiency program. We've actually gone from having five folder-gluers to now having three. Doing more with less is part of our wider investment strategy.'
The installation of the Bobst Alpina A3 110 folder-gluer is the latest step in a relationship with Marpak that stretches back more than 20 years.
'There have been a few challenges in sector in the last few years – we've seen a lot of issues caused by supply chain disruption and restrictions, and the result is there have been a number of backlogs,' said Goodayle. 'That's starting to stabilize now, and the Alpina is an integral part of our plan for the future.
'The quality of the build is what BOBST are renowned for, and that was especially important to us on this project, with it being a refurbished machine. It's fair to say the whole experience has been fantastic. Members of the Operations team visited the refurbishment center in Germany throughout the process, to check on the progress and ensure that the machine was going to be exactly right for the purpose we wanted. I went out there myself for the final visit, to inspect the finished machine and sign-off on the project.
'Following completion of the installation in September, the improvements have been across the board – not just productivity and efficiency, but also volume of throughput and quality of output. The investment was planned with the collaboration of the team on the line, and that team are now getting the very best out of the machine.'
Craig McGowan, area sales manager for Bobst UK and Ireland, commented: 'We were thrilled the refurbished Alpina was proving such a success with Marpak. We have worked with Chris and the team for several years, and it was a pleasure to be able to support their program of growth with this new installation. Our refurbishment experts were able to cater to every request and ensure the machine would meet every production challenge Marpak could set. It's heartening to hear of the success and excitement within the team using it daily, and we look forward to continuing our strong partnership with the business in years to come.'
Stay up to date
Subscribe to the free Label News newsletter and receive the latest content every week. We'll never share your email address.