A new generation of high-speed digital presses is closing the speed and productivity gap with flexo.
A new generation of digital presses operating at speeds of 100m/min (328ft/min) and upwards is closing the speed and productivity gap with flexography and changing the way we view the conventional-digital equation. 
During recent open houses at Bobst, HP Indigo and Durst, a new generation of digital presses were demonstrated reaching new levels of productivity broadly comparable with narrow web flexography in real world operation.
At its Expo Label event Durst showed the Tau RSCi, a 510mm-wide (20in) UV inkjet press printing at 100m/min in CMYK+ mode. Adding digital white takes the speed down to 52m/min, but the press was also equipped with a UV flexo station before the digital print unit which could be used to print a first down white at full press speed. A second flexo unit after the digital print station would typically be used for a varnish.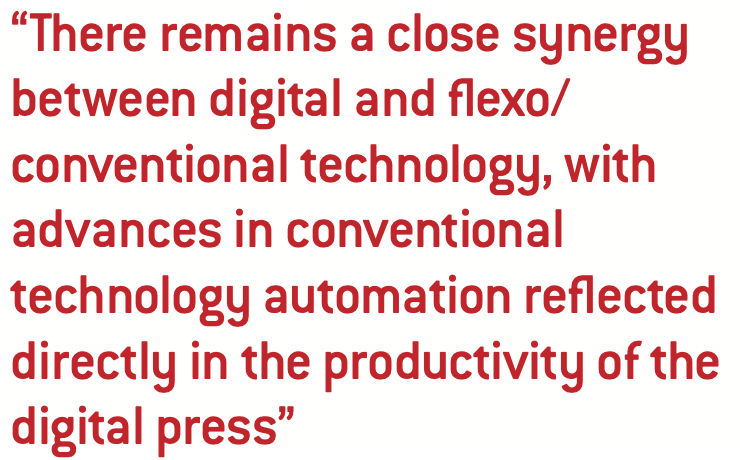 On a 510mm web width at those speeds, the productivity of the Tau RSCi press certainly matches narrow web flexography at real-world speeds, but a major obstacle to longer UV inkjet runs has been the additional cost of the ink compared to UV flexo, variously estimated at between two-to-three times as much. Durst has sought to address this with its Save Ink mode, which uses some impressive color management algorithms to re-formulate the colors required to make up an image to produce ink savings up to 12 percent while staying within a delta 2 of the original. In practice the two images are virtually indistinguishable. 
The final part of the high productivity jigsaw was provided by A B Graphic, which demonstrated a 530mm-wide Digicon unit equipped with the Fast Track high speed semi-rotary die-cutting unit capable of operating at speeds up to 150m/min. The Digicon line can be used in-line with the Tau RSCi, although a near-line configuration remains the preferred approach for maximum flexibility.
At the HP VIP event the V12 press was demonstrated publicly for the first time. The press at the HP technology campus is still an alpha development machine, with the first beta contracts now being signed. But the potential for HP Indigo's new rotary blanket architecture was immediately obvious, with the press reaching speeds up to 120m/min in 4-color mode on a paper substrate. 
The V12 can print at full speed in up to six colors, with any additional colors halving the speed. But as CMYK work probably accounts for upwards of 95 percent of the average label printer's workload, this is unlikely to be a significant limitation.
ABG is currently developing a converting line to match the V12, including a butt splicer for greater productivity. Again, the configuration is much more likely to be near-line than in-line, although that possibility definitely exists.
Bobst has taken an all-in-one approach with the launch of its new high productivity digital press series. The 510mm-wide Digital Master prints at speeds up to 100m/min in up to six colors with printing, embellishment and cutting in a single pass. The press is fully modular and incorporates Bobst's own highly automated flexo and converting modules. A modular architecture allows customers to configure the machine from a digital-only version to a highly customized configuration.
So, what does this tell us about the changing balance between flexography and digital label printing? 
Firstly, it seems clear that the days of the 'entry-level' flexo press – typically 8-color, shaft driven, no value-adding units – are numbered. There is a very large legacy installation base of such machines, and their one-to-one replacements are quite likely to be digital.  
But one should not write off flexography. Flexo technology has itself undergone a revolution in the last ten years. Digital control of conventional print and converting operations has opened up completely new possibilities for shorter runs with minimal waste and a high level of automation and autonomy during the print process.
Indeed, to achieve their high levels of productivity all the digital presses mentioned above still rely in different ways on advanced, automated conventional technology to convert the digitally printed label. 
Whether they are in-line hybrid systems like the Bobst Digital Master, or whether they use ABG's converting technology, there remains a close synergy between digital and flexo/conventional technology, with advances in conventional technology automation reflected directly in the productivity of the digital press.
In addition, the cost of digital inks will always be more than UV flexo inks – although clever systems like the Durst Save Ink are seeking to reduce the gap. The answer could be a UV flexo station used to lay down the color with the highest coverage, greatly increasing the run length economically viable with a high-speed digital press. 
So digital and (digitally-controlled) conventional technology will continue to work together to greatly increase the productivity of the high-speed digital press. 
---
For more Andy Thomas-Emans columns, go to www.labelsandlabeling.com/contributors/andy-thomas