Read later
Editor's note - Calling time on Just-in-Time?
As L&L went to press, strikes by Finnish forestry workers had been further extended, leading UPM to declare Force Majeure – allowing paper supply contracts to be cancelled. And the strikes had spread to Spain, potentially impacting Lecta's ability to fulfil its contracts.
The effect of the strikes has been exacerbated by the outbreak of conflict in Ukraine, cutting off alternative sources of wood pulp for paper processing.  
This comes at a time of tightening paper supply globally, with China for example having less export capacity due to strong growth as the country recovers from the worst effects of the Covid pandemic.
The looming shortage of paper for wet-glue and self-adhesive papers and liners threatens to halt supply of critical products across every end use sector from pharma to e-commerce, to food and drink.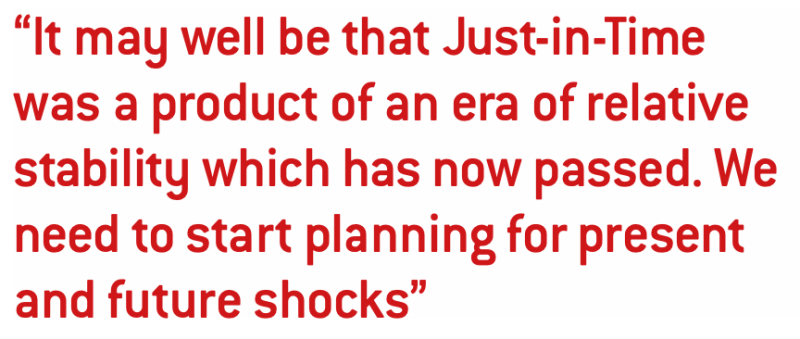 The critical paper shortage comes on top of a long-running global shortage of computer chips. This has already impacted the production of cutting-edge label print and converting equipment, which relies increasingly on highly complex control and network systems. Lead times for new presses has increased and availability of spare parts is also affected. The global shipping logjam continues to delay the delivery of sub-components and import/exports of raw materials critical for manufacturing.
Meanwhile rapidly rising fuel prices, driven by the interruption of Russian energy supplies, is increasing the cost of energy and truck journeys.
These concurrent crises have exposed the vulnerability of a label supply chain built around Just-in-Time delivery and production. JIT production means brand owners no longer hold stock, pushing stock holding back to their suppliers, including label converters, who in turn push it back onto their suppliers and so on back down the chain. The end result is a lack of resilience in the face of these kinds of multiple crises. 
We need to have a serious conversation – which includes brand owners – about building back buffer stocks and sharing the costs fairly. It may well be that JIT was a product of an era of relative stability which has now passed. We need to start planning for present and future shocks.