Tom Kerchiss, MD of RK Print Coat Instruments, on the challenges and importance of proofing
Up until comparatively modern times, packaging – and to some extent labeling – was regarded as an unavoidable cost center. In earlier times, when the superstore was little more than an ambitious concept, multi-national food and beverage organizations were few and consumer choice was limited, packaging converting focused almost entirely on providing containment and protection. Print processes such as flexography were not the powerhouses of productivity that they are today: speed of output was limited and so too was quality – but then again everything was limited: a limited choice of substrates and little incentive to add value and exploit decorative possibilities. How the package or label looked was by modern standards of marketing scarcely thought about. That was then, this is now. Priorities and expectations are now, by any standards, high.
Food and beverage suppliers and manufacturers of consumer products are driven by current business conditions, which may be global in context and which often require an assertive and dynamic
approach to every aspect of marketing – including presentation. Brands have to set up their pitch in the market that they serve and be strong and clever enough to survive and thrive in tough business
conditions, including those bought about by once in a lifetime events (hopefully) such as the Covid pandemic.
Value
Brand owners and marketers expect their business partners to become fully engaged from the point of entry to the completion of the labeling and packaging project. Speed, efficiency and high quality are understandably important. Pre-press functions as a distinct process that lies between design and printing. It can add significant value to the overall print process. Pre-press systems and equipment can be used to determine process and product viability and address many of the operational concerns that may impact on profitability. Pre-press color communication devices have an important role to play in that these increasingly multi-tasking devices can be used to produce accurate proofs that printers can match at the earliest part of the production cycle.
Whether it's premium showcase labels for a skin care or cosmetic product, or a wraparound label for garden care – designers working in conjunction with marketing project managers are creating graphics that push the performance envelope of a flexographic press to its limits. For the converter, a good design is one that takes into account the strengths and weaknesses of the chosen print
technology, the substrate, inks and any processes of a value-added nature that are to be included. As far as wish list requirements are concerned, pre-press and pressroom managers tend to be in agreement that although it may take many months for marketing, designers and boardroom decision makers to agree upon a strategy, pre-press departments and print shop personnel seldom have time
on their side, moving swiftly through approved processes from artwork to proofs to plates to printing.
Working ever-aware that the clock is ticking, print and process standardization is a lofty ambition that many practitioners of label and package printing would aspire to if it were at all possible. It is hardly surprising that it is difficult – some say impossible – to standardize many of the print and converting processes. For one thing, label and package printing and converting are not like a good many manufacturing processes with conveyor flow line systems and where input parameters, once set, are not touched for long periods. Label printing and converting is different in that job changes, by comparison with most industrial processes, are frequent, and so too are the materials used, the consumables, the inks and coatings. Design, layout, graphic components, ink and color requirements are all subject to change, and with job changes variables that influence and affect quality of output also change.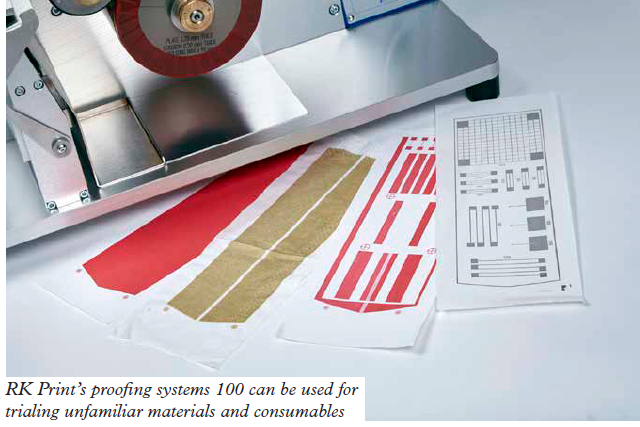 While designers, marketing personnel and focus groups may conduct brainstorming sessions to come up with innovative, colorful and highly functional label and product packaging design, it is the converter and various ink and substrate technologists that need to be one step ahead of the game: interpreting various ideas and agreeing to what is possible to produce and what isn't on a particular converter's current processing machines. Color communication devices, proofing or sample preparation equipment, such as those designed and developed by RK Print Coat Instruments, are able to undertake a variety of tasks, but their prime purpose is to generate proofs, which match the visual characteristics of the finished product as closely as possible. A proof can form part of the contractual agreement between printer and customer.
Color
Color can be a slippery customer. Color may agree with set numerical values but when it's being viewed and approved for a particular job it's not unknown for customers to raise color-related concerns. This is because we each interpret color differently. Color is influenced by the health and age of the viewer, the light under which the sample is examined, our culture and our upbringing. Other issues that arise when color is being evaluated include geometric metamerism, a phenomenon exhibited by colors that appear to match at one angle of illumination and viewing but when the angle of illumination and viewing is changed colors no longer match. Geometric metamerism is normally associated with gloss and/or substrate textural surface issues.
Certain colors can produce unexpected results. When flexo printing on transparent filmic labelstock, the light scattering characteristics of an opaque white ink layer can greatly affect the appearance and finish of a product. Color may sometimes appear more intense than it should be. Often this may be down to one or two causes: too much ink being carried by the metering roll or doctor blade; alternatively, the problem may be due to ink being too concentrated during mixing. Adding an extender in controlled amounts will help to resolve this problem.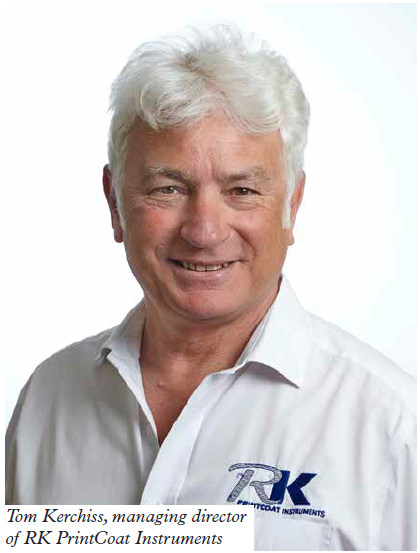 Consumers judge a product or brand by presentation, the printed face that it presents to the world. Color that just doesn't sit right is one thing; an absence of blemishes, pin holes or fisheyes is another. Obtaining color and consistency of presentation can be challenging at the best of times, but the different UV handling requirements, together with the need to control process variables in the shortest possible time, make it doubly so. Proofing a UV flexo-printed job is especially problematic in that obtaining an accurate proof is difficult. Pin holes and many other blemishes simply cannot be captured – the reason being that during the time taken to run off a sample and then take it to a UV conveyor, the surface properties will have changed due to chemical reactions. The result is that the printer and customer have in their hands a run-off that does not reflect reality. Proofs are a snapshot in time and need to be judged on that basis.
Issues
The FlexiProof UV resolves many of the issues surrounding the use of, and the manufacture of, UV flexo inks. The FlexiProof UV incorporates a miniaturized UV curing system so that printing and curing is undertaken seamlessly. This highlights issues associated with inks and color representation, and it also enables users to pick up on pin holes and blemishes prior to making an unwelcome appearance
at a later stage, on-press.
The FlexiProof UV and variants FlexiProof LED UV and FlexiProof 100 can be used for trialing unfamiliar materials and consumables; they can be used to determine printability and ensure consistency of performance of inks and substrates over time. They are used for computer and visual color matching, data presentation, educational purposes, and more. Printing and proofing off the production machine saves on waste, minimizes on-press adjustment of inks, minimizes production machine downtime and saves time, energy, labor and other costs.