Labelexpo Americas 2022: A-Z technology preview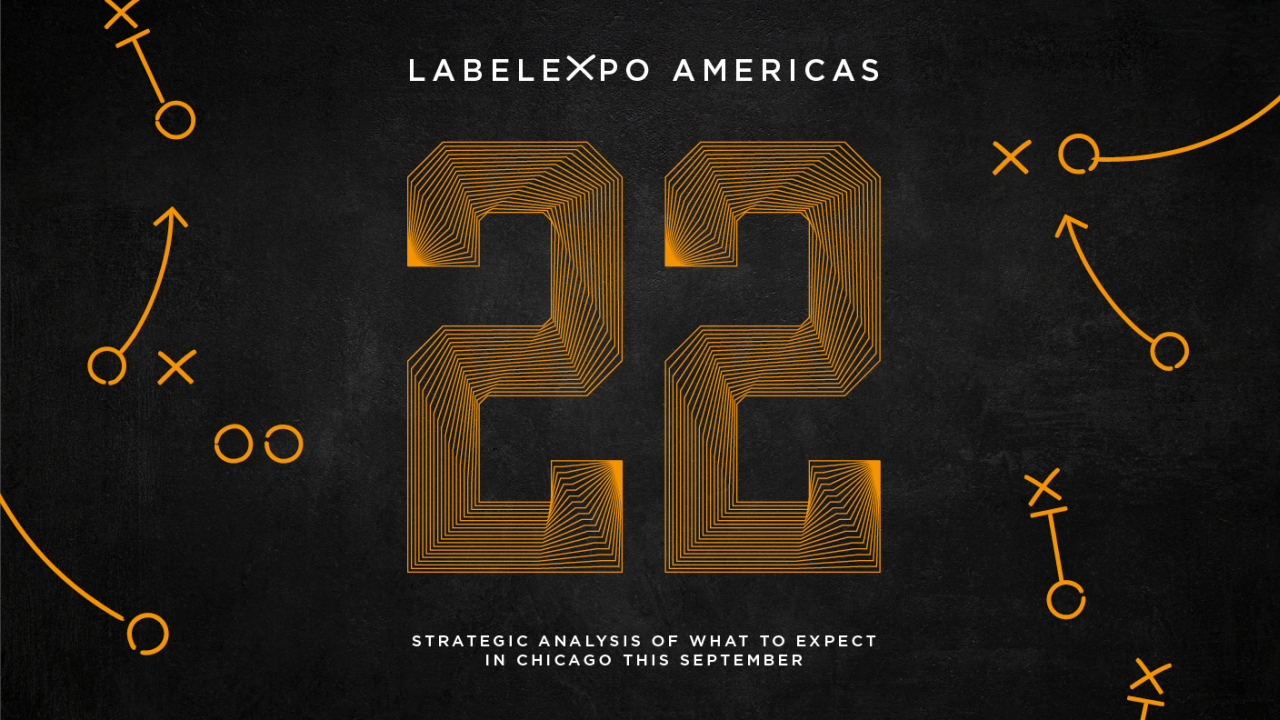 The company presents a wide range of printed samples with technical experts on hand to talk about requirements for flexo and rotary screen ink, and coating products for pressure-sensitive labels, shrink sleeves and narrow web pouches. 
For graphics and colors, the company promotes Steelblade doctor blades made of high-quality steel for a precise and clean ink wipe. They are an integral part of a powerful printing deck with an anti-spit profile supporting UV label printers in tackling their ink-spitting issues.
For printers preferring plastic doctor blades, Agergaard suggests Polyblade series, which offer precision doctoring combined with wear resistance and work safety.
Asahi also promotes a brand-new water recycling unit that can be used with its plate processing systems. It features a filtering system that recycles approximately 85 percent of the water used in plate processing, with only the remaining waste as a slurry or sludge to be disposed of. A portion of the additive used in the water wash remains in the filtered water, reducing the amount of additive required for processing subsequent plates.
Asahi Photoproducts continues the path toward an accountable sustainability program for its flexo plates and strives to soon achieve a carbon neutral status for the AWP-DEW in partnership with the Carbon Trust. 

Also at the company's stand is the new CUTcontrol technology, which can link all production processes and provide the KPIs for strategic production planning, including live data streams from machine, accessories, and punching tools.
The SMS500 shrink sleeve seaming system is specially designed for flexible packaging and can reach a maximum seaming speed of up to 400m/min.
The Jet D-Screen includes a high degree of process automation, including automatic job changeover with barcode reading, automatic slitting knife positioning, and turret rewinding systems.
The company also promotes its GT360 Series for the conventional embellishment of high-end labels.
The application enables users to design color prints, including logos, automated date and time stamps and QR codes or barcodes.  
Dantex representatives are available to discuss the ever-popular Pico range consisting of the, new PicoColour HD, PicoJet 254, PicoJet 330i, and their flagship PicoJet 330s high-speed model. All PicoJet models feature modular stations including flexo, die-cutting, cold foiling, lamination, edge trimming, back scoring, and rotary or shear slitting.
Customers can also benefit from Pico's SuperWhite, offering inkjet white at an opacity of 92 percent in a single pass, along with a new orange. Dantex also promotes a wide range of its plate processing and cleaning equipment, letterpress and flexo plate materials, along with tapes and sleeves.
The Daco TD 350/430 fully automatic turret rewinder to produce plain labels is manufactured with 1m (40in) unwinds, one or two rotary die stations and a four-spindle turret rewinder. With the addition of one or two flexo stations, the machine can produce finished rolls in one pass. Drying options include UV, IR and LED, along with options of UV inkjet systems for barcodes and variable data work. 
DCM also shows Sleeve Intense, a non-stop seamer with an automatic sleeve monitoring system, automatic solvent needle web guide, seaming line control, quality control in-line and defect identification. 
Also on display is the Babycat, DCM's inspection and doctoring machine, now also available with a Decosystem camera to monitor the seaming line and its thickness. 
The Demak PM line is equipped with continuous vacuum technology to avoid air bubbles and an XYZ robot for dosing resin on complex shapes with very high accuracy.
Dimatra also exhibits the Sleeve Seamer Eco, a compact and efficient machine designed for short runs of sleeves with quick setup. It can produce sleeves up to 200 mm (7.87in) running at 120m/min (393 ft/min).
Also on show is a fully servo-driven Sleeve Cutter machine, able to make 350 cuts per minute with horizontal and vertical perforation systems. The cutting can be controlled by a pre-set distance or by programming its printing sensor.
Domino shows its N730i digital UV inkjet label press for the first time. The press prints at 1200 dpi with BITSTAR print head technology. It is configurable in up to seven colors (CMYKOVW) and can achieve up to 92 percent of the Pantone color range. Its ergonomic design is automated with roll lifts at the unwind and rewind and supporting media rolls of up to 1 meter in diameter. It has an optional flexo priming station (pre-digital), which can be retrofitted to optimize print quality on more difficult media types. An optional flexo station (post-digital) can be retrofitted to support varnishing, a brand spot color, or flood white for shrink sleeve applications.   
Domino also exhibits its N610i digital UV inkjet label press, a 600x600 native dpi digital UV inkjet label press available in up to seven colors (CMYKOVW) in roll-to-roll, roll-to-inline / nearline, and hybrid configurations. The K600i dual bar digital UV inkjet printer is also on display. The K600i allows variable data printing at up to 492 ft/min and the ability to print serial, batch, random, or PINs; alphanumeric characters; variable images; linear barcodes; 2D matrix, or QR codes.
The Aries semi-rotary label finishing system is built for rolls ranging from 250mm (9.8in) up to 330mm (13in). Production speeds are up to 20m/min.
The Eclipse LF220HS offers the same productivity as the 350HS while handling media widths up to 220mm (8.5in) with an increased production speed and the ability to be operated as an in-line system. 
Eclipse also demonstrates full in-line printing and digital label finishing system with the Epson C6500 full-color printer, Eclipse ACU-1+ accumulator, the Eclipse Mini+ laminator and digital finishing systems for short-run label production from plain media to a final label.
The SurePress L-4733AW water-based resin press builds on the success of its predecessor, to deliver labels suitable for food product packaging, including PS labels, IML, shrink, and candy wrappers. 
Epson also showcases the P-, R- and S-Series printers for proofing, prototyping, and large-size label production up to 63in width, as well as its ColorWorks color inkjet desktop label printers that handle on-demand jobs in tough production line environments.
Unique products at the booth include the Fedrigoni Art of Luxury portfolio for wine and open and close wet wipes for home and personal care. For food and beverage converters, Fedrigoni showcases WOff, a Wash Off Adhesive that is expected to be certified by the APR (Association of Plastic Recyclers) and provides debonding of non-recyclable label materials from PET and glass containers. Lastly, in the Smart Labeling section of the booth, visitors can discover the Tageos portfolio of high-performance, premium-quality RFID inlays and tags.
Folding unit mode enables in-line folding of leaflets during the affixing process in a single pass pile feeder mode for feeding pre-folded leaflets, booklets, or other items onto the web to produce leaflet labels. 
The machine features lamination or glue-only options and an adjustable pre-curve roller, while the web tracking via servocontrolled side adjustment enables pre-printed laminates to be laid down in register. The hot melt glue and steering unit is fully programmable for discrete solid or dashed transverse glue lines or 100 percent surface coating.
The company also shows its Flenex Water-Wash plates and processors. The plates are 100 percent solvent-free and provide high quality at fast production times while lowering cost-in-use compared to thermal, solvent, or other water-wash technology.
Also on display is ColorPath Sync cloud-based color management software, providing one location to manage color for multiple workflows, devices, and media.
GEW says LeoLED is suitable for users who want access to UV Arc and UV LED technology, those with more demanding applications, or those who want to print on substrates wider than 600mm. 
GEW also highlights AeroLED, a fully air-cooled UV LED system released in 2022. It is a high-power UV LED system for full cure, printing, coating and converting applications up to 600mm wide. AeroLED delivers power and reliability with a unique concept that eliminates many of the operational problems in existing air-cooled LED systems on the market. Moreover, the company says the design makes AeroLED cost-effective and step changes the accessibility of LED printing.
Visitors can also see the SR350 slitter inspection rewinder, which has been completely redesigned as a modular machine with a range of options such as BST 100 percent inspection camera for pharma and security labels, scanner barcode reader, inkjet system, automatic slitting unit, waste vacuum ejector and turret rewinder. Visitors can also see the LR250 label inspection rewinder. Also on show is the CC160S semi-automatic core cutter and the CS350 high-speed sheeter, a 350 mm roll-to-sheet guillotine cutter suitable for cutting labels and heavy materials.
Grafotronic also promotes The One single anvil semi-rotary die, capable of reaching  150 m/min. It can be set up within just 30 cm of material with a tolerance of +/-0.1 mm.
Also on show is the HI3 inspection rewinder with the Choose Green program. This features a regenerative system which captures braking energy and converts it into power, making the system approximately 30 percent more energy efficient.
Grafotronic is also showcasing Boon-Tech auxiliary machines, including boon|Rebel, a small (1.2 m footprint) digital finisher; boon|Raptor, a high-speed label cutter and boon|Velox automatic core cutter.
Based on the Labelfire digital web press and the Labelmaster overall platform, the Gallus One is a 340mm wide roll-to-roll UV inkjet press printing at 70m/min at 1,200 DPI in four colors plus white.  
Gallus also showcases its line of rotary silkscreen for screen units. Gallus Screeny is said to offer its customers a wide range of products for screen-printing applications. According to the company, Screeny, and its line of pre-press products, are suitable for both Gallus and non-Gallus screen units.
Infradry Compact IR modules for drying water-based inks and coatings combine IR heat with air management to remove moisture from the process area. The compact, modular unit retrofits easily into existing offset, flexo and digital presses or onto paper, foil and other coating lines. 
The Semray UV4103 UV LED curing system is a modular air-cooled, easy-to-configure system for different printing, coating, or adhesive curing widths. In addition, advanced micro-optics enable larger working distances without significantly reducing the print area's intensity. The plug-and-play modular segments are easy to swap in and out of the backplane, whether for maintenance purposes or to change wavelengths. 
The company says that label converters operating this press will outgrow the label market by a factor of three. This allows brands to benefit from an agile and sustainable supply chain without compromising print quality or packaging innovation.
HP is running live demonstrations of the HP Indigo V12 and the HP Indigo 6K digital presses, the backbone of the digital label space, at the designated booth site, as well as different automation technologies, new business opportunities and innovation from the lab.
Hubergroup also shows UV and LED curable coatings. The Hydro-X line of water-based inks is optimized for label, folding carton, bag and flexible packaging printing applications. The inks are imprintable, scuff, rub, scratch-resistant, and fade-resistant. 
Hubergroup also showcases a comprehensive line of water-based coatings.
Hybrid Software will showcase version 8 of Packz, its native PDF editor. Enhancements include complex layered artwork that can now be viewed in color and wired modes simultaneously, and object-based screenings can be inspected per separation. The Smart Flattener guarantees artwork quality and consistency, professionally managing spot color and transparency interactions as well as press gamut conversions. Pactions is a programmed toolset with action lists, responding to customer needs for advanced automation. It reduces the amount of operator time needed to edit, approve, 
and print a new package design. 
Also on display will be Stepz 8, an interactive software package based on the award-winning technology of Packz, which allows for the preparation and execution of step-and-repeat and variable data tasks for high-speed digital printing of labels. Hybrid Software also presents Cloudflow, SmartDFE and variable data printing technology. 
as a 'preferred' process for consumer packaging by the Association of Plastics Recyclers (APR).
INX International Ink is featuring many of its products and new equipment, including INXFlex Contour a UV and LED dual cure flexographic ink system that produces shrink sleeve labels.
INXFlex Contour piggybacks off Genesis washable label inks. A recycle-friendly ink system, it recently added a new flexo version and UV curable primer that makes INXFlex Contour washable too.
INX partnered with VerifyMe announced the development of VerifyInk, a covert ink technology to help provide brand protection of products in the marketplace. The newest addition to the security inks product line runs on direct-to-product continuous inkjet (CIJ) printers. When used in tandem with VerifyMe's proprietary and patented reading devices, it can identify counterfeit products across all markets including consumer goods, pharmaceuticals, and food and beverage, says the company.
INXShield UV Flexo and GS Slip coatings represent the first in a new line of functional coatings for packaging applications. Formulated with BioCote antimicrobial technology to protect the coating by inhibiting odor and staining microbes on the surface, INXShield is validated and quality control tested regularly by an independent testing facility using the ISO 22196:2011 test method.
The Triangle brand of XJL UV Curable Inkjet inks follow in the tradition of exceptional alternative ink products.
The NW350 is the newest addition to the narrow web series of UV Digital Label printers, designed to combine printing and conversion to produce brilliant color printed labels at a maximum printing width of 350mm or 13.78 in, the NW350 delivers single pass output up to 160 ft/min on any label stock. This product includes quality inks, making it ideal for printers looking to meet the demand for productive, short-run digital printing.
Click here for more information.
The Heaford ELS model completes the trio of plate mounters on the booth. The plate mounting system uses high magnification cameras used on all Heaford models. 
The iPlus is its latest inspection machine. It runs 500m/min and is equipped with an E+L oscillation system on both shafts, which allows to control the type (sine or square) and quantity of oscillation from the MMI. 
The range of flexible dies, TecScreen printing meshes, and magnetic cylinders will also be on show and showcased with a preview of a new magnetic tool incorporating HMT (Hidden Magnetic Technology). 
Important new developments include the ability to expand applications with white toner, extended job opportunities with press runs up to 3000m and improved productivity with print speeds of up to 130 ft/min. Other features include resolution equivalent to 3600x2400 DPI, prints on substrate widths up to 13in, multiple-touch panel monitors, and Intelligent Quality Optimizer. The IQ-520 enables real-time control of white toner opacity, color stability control, as well as automatic calibration, density adjustments and profile creation.
The company also showcases its AccurioLabel 230 label press, GM DC330 Mini all-in-one compact label finishing machine, PKG-1300 and AccurioPro front-end software.
The MBS supports non-stop unwinding of labels, flexible packaging, shrink sleeves, laminates and light paperboard. The machine accommodates the automation of any web by featuring Martin Automatic's patented linear sheer butt splice unit and integrated roll loading mechanism.
The LRD is a two-spindle non-stop transfer rewinder that features the same versatility and adaptability as the MBS but for the delivery end of the press. In addition to the automatic transfer, it features automatic unloading of finished rolls and is fitted with a slitting module that can accommodate automated differential winding.  
The MBS and LRD are available in web widths out to 710mm and diameters up to 1270mm.   
Comprised of two recyclable face sheets temporarily secured adhesive sides together until ready to be applied and no liner, TwoFer Twin Store Signage is used as labels or in-store signage for an end cap, wall, or aisle graphics. Both sides can be duplex printed in one pass flexographically or digitally in rolls and sheets.
Providing secure adhesion to most surfaces and easy removal when the promotion is over, other applications include TwoFer Shelf Talkers, recyclable, and back-to-back shelf tags. Patent Pending TwoFer FastFoldZ speed tag application at store level with no liner to discard. TwoFer ship/return labels for eCommerce distribution and TwoFer charity labels for fund solicitation utilize permanent adhesive versions.
Also on display are NAStar's temporarily permanent and permanently removable T1055 temporary adhesive, linerless pressure sensitive including direct thermal stocked in DT printer ready rolls, laser paper and film products, and pattern coated products. 
Highlights in the collection include the Rainbow Holografik Film, the completely plastic-free EcoElement CLS gloss and matte films, and Karess HE, a high-efficiency soft-touch film. Essential PlatinumOPP gloss and matte films, and an ultra-durable ScuffProof film round out the portfolio to cover all prime label applications.
Incoming print files are automatically checked by more than 130 criteria. Detected errors are automatically corrected and the files optimized for the individual requirements of the label production. Among other things, the software performs the following corrections: Creation of bleed and white/varnish masks, correction of cut lines, trimming to cutting dies.
In addition, the software places the labels on the web in an AI-based, efficient and material-saving manner. This can be done collected by job or customer, or across different jobs. Finished print files are transferred to the press. Files for embellishment and finishing are sent to the production machines. From order entry to printing, embellishment and finishing, the software offers maximum transparency and reliability for all production steps.
OneVision offers connections to common software systems or hardware components. Additional connections can be extended at any time.
The company also launches Fiberskin, a weather-resistant paper, recyclable and biodegradable, printable by dry toner, for short-term outdoor exposure for industrial, VIP and prime labels, outdoor tags and signage.
The line is fully digital from inkjet module to laser die cutting and turret rewind, and offers the capability to produce short-run promotional labels in the food and beverage, wine and spirits, cosmetics, personal care and home care sectors.
DigiFastone can produce tactile effects and textures, decorations and textures up to 130m, and Braille and Marburg Medium printing for pharmaceutical products. The system generates low wastage, reduces setup times, and offers a register accuracy of 0.15mm.
The SmartMotion is Re's new web guide controller for small and medium size web guide systems. It brings the stepper motor and the driver technologies into a single device, allows a compact size, minimizes wiring needs, and control of the actuator stroke without using mechanical or electronic devices. 
Re also promotes tension control systems, pneumatic and electromagnetic powder brakes, safety chucks, shafts and web inspection systems.
Along with high chemical resistance, 150PRx is Ricoh Electronics' first completely phenol-free DT formulation. This formulation is 100 percent free of all BPA and BPS to ensure safe handling for converters and end users. 150PRx PF application areas include but are not limited to prescription labels, laboratory labels, and product ID labels.
With high adaptability to a range of materials, B125CS enables end users to use one ribbon for various labeling needs. B125CS is also said to maintain high resolution and sensitivity to achieve printer energy savings without sacrificing crisp letters on the finished image. Application areas include but are not limited to retail, warehousing, manufacturing, and medical. 
The Infinity 4K line scan camera is designed for tabletop rewinders with web widths of up to 520mm. It features new AI-based print inspection technology that provides label checking capability like a human operator. Gazelle high-speed bidirectional rewinder for imprinting a variety of label types is also featured. The company collaborated on the development with Graph-Tech USA, which incorporated its EZ 202 DOD color inkjet head based on Epson S3200 technology. 
The Gazelle II DOD Color is also designed with a pre-installed interface for the fully automatic 100 percent inspection module, quick release of tension axles (for simple reel change installations and removals), and web tension on the curve (hard on the inside and soft on the outside).
The Infinity 4K camera will be demonstrated on rosas' Cheetah 500 tabletop rewinder with backside serialization and a TIJ printer for numbering and coding. The second-generation Gazelle rewinder will be shown with the Graph-Tech USA EZ 202 DOD color inkjet head. Graph-Tech is rosas' local agent in the USA for the Gazelle rewinders. 
Rotometal MCA Magnetic Cylinders have already been used by renowned printing companies. 
The standard configuration includes a high-speed, programmable robot-automated stacking and counting system (Spider), which combines acceleration, velocity and precision at a continuous web speed of up to 50 m/min. The equipment is designed to stack different types of products combined within the same printing image. 
Visitors at the booth are also able to find out more about the company's rotary cutting and creasing tools, highperformance punching modules, rotary die cutting-perforating modules, tools and modules for Braille embossing, heavy-duty rotary die-cutting modules, magnetic cylinders for web width up to 1500mm and format repeat 1220mm (48in).
The Truepress Jet L350UV SAI is suitable for prime labels and industrial labels in just about any industry – even those that are highly regulated such as the food and beverage industry.
SpectroVision is a cost-efficient in-line system that improves the color measurement and barcode reading process to keep presses moving at high speeds and to help flexo printers reduce waste. Each system includes a color spectrophotometer, a 2D camera (for web viewing), a dedicated press-side PC/command console, and two seats of Techkon's ChromaQA color management software suite.
tesa Softprint 52016 and 52017 are double-coated foam tapes used to mount photopolymer plates in flexographic printing. Both are specifically designed for use with plates between 1.14 and 1.7mm in thickness. The structured PP-liner helps prevent air pockets when plate mounting, while the high bonding to the plate helps avoid edge lifting and plate movement. tesa Twinlock is a reusable, self-adhesive and compressible plate-mounting sleeve. After printing and plate removal, the tackiness can be reactivated so the sleeve can be used for the next print job.
Tharstern Cloud is built on cloud-native technologies. This means that, as well as the obvious benefits such as remote working, mobility, and always being up to date, it also offers world-class security, availability, and almost unlimited scalability.  
A virtual noticeboard allows the company to share news and promotes employee engagement initiatives, along with a virtual training academy.
Used in combination with a Tresu chamber doctor blade system, the Tresu H5i G3 provides full control of the enclosed circulation from the bucket to the chamber. The Control Pressure Technology system prevents contamination of air inside the chamber and eliminates micro foaming and undesired blistering of the print. 
and LG Electronics.
Additionally, the company will showcase UPM Raflatac OptiCut linerless materials, also certified as CarbonNeutral; its printondemand and digital labeling solutions for digital printing systems; and the MyRaflatac customer portal and demonstrations of the newest features 
of this service.
Wausau Coated Products also highlights a new manufacturing line, Coater #14, that produces material for billions of labels per month. Wausau claims there is no other machine like its new, unique product. 
Also featured is Wilson's E Diffsystem, the high-tech adjustable anvil with a user-friendly touch interface allowing for precise adjustments with a single tap of the screen. The system is suitable for converters utilizing existing cutting tools for additional materials or making instantaneous adjustments on press when changes in materials occur. This year's new feature is the enhanced Customer Portal. Visitors can see how quickly and easily it is to get immediate quotes and place new orders directly into production. The robust performance of the portal is demonstrated live with up-to-the-minute production status, fast and easy searches for prior orders or quotes, and instant tracking of shipped orders.
Stay up to date
Subscribe to the free Label News newsletter and receive the latest content every week. We'll never share your email address.